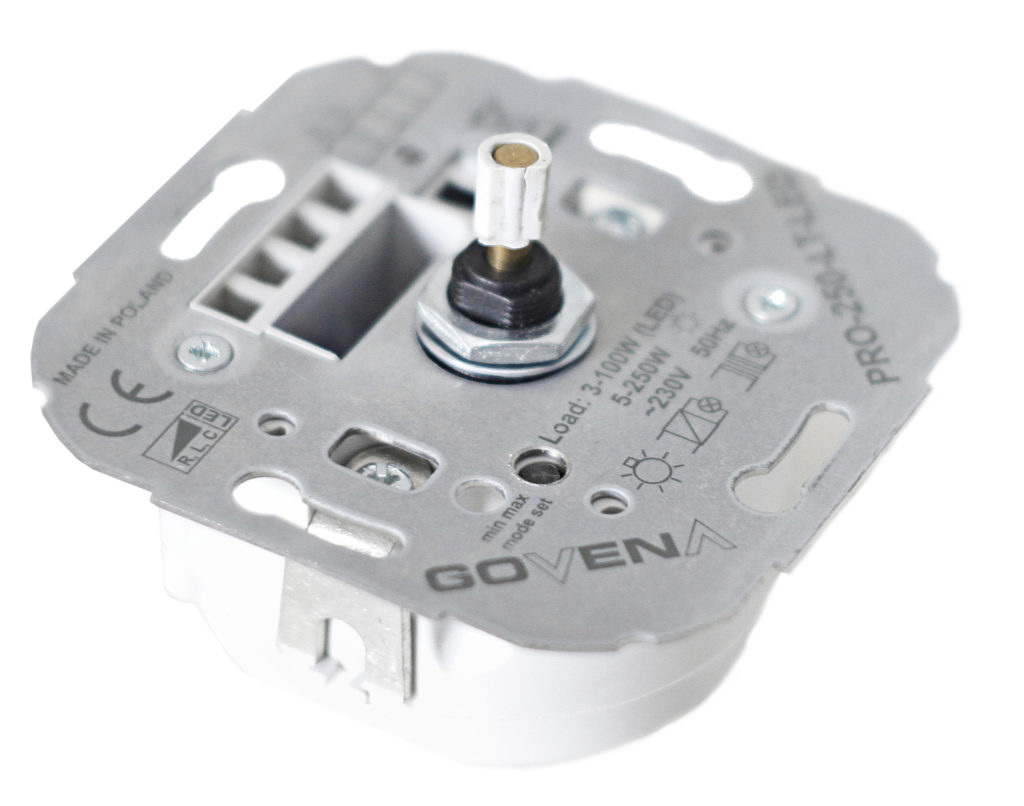 This LED dimmer is available in three versions:
STANDARD – controlled with a potentiometer, with leading-edge characteristics (the PRO-250-LED model):
Control by means of a rotary potentiometer,
Leading-edge phase dimmer, which cuts out the leading edge of the supply-voltage sinusoid,
PUSH-PUSH switching on,
Connects to LED lamps from 3W,
Silent operation regardless of the type of load,
Special circuit to reduce the current pulse,
Soft start, gentle switching on of light sources,
Returnable thermal, overload and short-circuit protections.
PREMIUM – potentiometer-controlled with optional micro switch (the PRO-250-L/T model):
Expanded version of the PRO-250-LED dimmer, additionally equipped with these options – adjustment of the minimum, – adjustment of the maximum, – changing the operating mode from leading-edge to trailing-edge (change from cutting out the leading edge of the sinusoid to cutting out its trailing edge), – option to revert to factory settings These options are triggered by sequentially pressing the micro switch and controlling the potentiometer.
LUX – touch control and IR remote control with optional micro switch (the PROI-250-L/T model):
An enhanced version of the PRO-250-L/T dimmer,
Touch or IR-controlled by any infra-red remote control – a special simple procedure to program any randomly selected button. It is also possible to use a factory YRC8 remote dedicated to dimmers.
Technical parameters
Supply voltage
Output power
Electromagnetic compatibility
Safety of use
Dimensions

[mm]

Diameter of the mounting box (mm)
Weight (g)
230V ± 10% 50Hz
LED: 3W-100W

Bulbs: 10W-250W

Govena DIMM 15W: 1-4 pcs

EN 55015
EN 60669-2-1
71 x 71 x 29
60
71
Lighting dimmers are intended to operate with the following types of light source:
dimmable LED lamps
LEDs connected to dimmable CC* power supply
traditional bulbs
halogen bulbs 230V
halogen bulbs 12V connected to dimmable electronic transformer*
Govena DIMM energy-saving fluorescent lamps
* recommended Govena products
Dimmable LED lamps and dimmable energy-saving fluorescent lamps generate high-current pulses when working with a dimmer set in L mode (leading edge).
Depending on the design and rated power of these lamps, the maximum dimmer load may vary.
List of recommended LED lamps compatible with the above-mentioned dimmers
Brand

Osram
LED's CHANGE THE WORLD
Kanlux
Kanlux
Osram

Soraa

Model
PAR16 AA44088
P45 TRO-4024-00
LED COB
PRODIM GU10-7,5W-WW/NW/CW
A60 AA66582
SP30LW-18-25D-827-03-S3
Lamp power
3W
5.5W
7W
7.5W
10W
18.5W
AC supply voltage
220-240V
Current
16mA
45mA
39mA
38mA
45mA
90mA
Hz
50/60 Hz